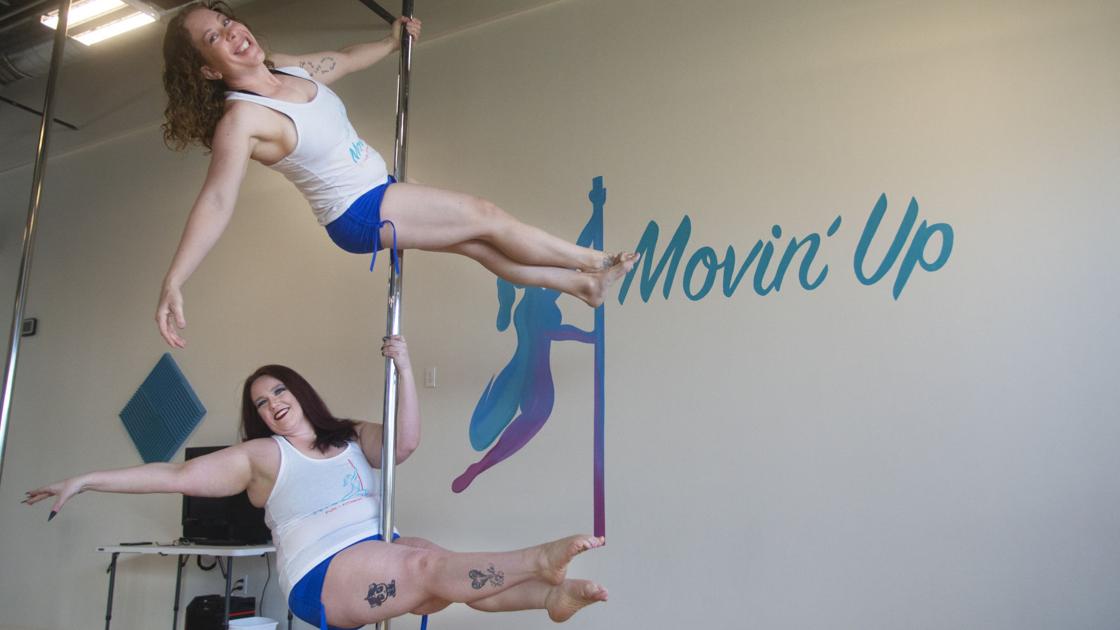 It's not stripping, and it's also not just a workout.
Movin' Up Studio is introducing Lincoln residents to the art of pole dancing fitness through exercise, expression and community.
Owner Sharon Czarnek opened the studio, located at 14th Street and Yankee Hill Road, in August. The main attraction of the bright and airy studio is its 10 floor-to-ceiling chrome poles built for pole dancing.
Opening during the coronavirus pandemic put a dent in business, but the studio has still been able to begin building a community, Czarnek said.
"It's a welcoming space, it's a great place to train, everybody's welcome," she said. "People are having a good time and as long as they're not sitting on the couch I consider it a success."
Czarnek is originally from Nebraska but moved to the East Coast for about a decade and took her first pole dancing class while living in Washington, D.C. She said she tried all kinds of fitness classes in the past, but ended up falling in love with pole fitness because of how fun it is.
"Coming from a person who has done so much group fitness, there's a reason that I stuck with pole, because I don't get bored," she said.
When she moved to Lincoln, Czarnek noticed that there was no dedicated pole fitness studio here. So, she decided to create her own community for the activity.
"I was like, 'Lincoln needs a pole community, it absolutely needs to have a pole community,'" she said. "It didn't exist here, and I really thought it should."
A few other instructors also teach classes at the studio in addition to Czarnek. Besides pole fitness classes for all skill levels, the studio also teaches chair dance classes and conditioning and stretching classes. The studio also offers private group events and private lessons.
Pole dancing fitness offers a good workout because it's a mix of both cardio and strength training, Czarnek said.
"Like a normal dance class, it will help you with balance, flexibility, but it also has a large strength component to it," she said.
Besides being a workout, pole dancing can be an art form and a way to connect with others.
"The thing that probably draws people into pole the most is that it's fun," she said. "They want to come into class, and they also get to spend time meeting other people."
The studio has 10 poles, but only five can be used at a time due to COVID-19, Czarnek said. She said the studio is taking precautions to ensure classes are as safe as possible, including requiring everyone to wear masks in the studio.
Czarnek said her methodology for teaching pole dancing incorporates incremental skill levels. The expanded levels help to cater to more people, even those who have never touched a pole, she said.
"We teach pole in a way that it is accessible for everybody," she said. "It doesn't make any difference whether you're a yoga or gymnastics instructor or whether you're 40 years old, a mom of three and you haven't worked out for five years."
Most of the people attending classes at the studio right now are women, but pole fitness is open to everyone, Czarnek said.
"People will try and put pole into just one square, and it's not," she said. "There should be spaces for everyone, and that's really at the heart of what I do."
LeShara Ways has been working out on her own for a long time, but said she was excited to start taking classes at Movin' Up when it opened.
"When this one opened, I was like, 'Right on,'" she said. "Because now I have somewhere outside of my home to come and learn some new skills and practice and meet some new people."
Ways said she appreciates how inclusive the studio and the instructors are.
"One thing that I know, but that they are so great about reminding everyone, is that you can't limit yourself based on your size or your age, or even where you're at with your fitness," she said. "They help build you up with that and help you build your skills."
One common misconception is that pole dancing automatically means stripping, Czarnek said. But that's not the case in places like her studio, where there is no audience and no one is getting paid.
"When we take our clothes off, it's because people need skin to grip to the pole and to do the move," she said.
Czarnek said she looks forward to continuing to introduce more people to pole fitness.
"People will have a great time," she said, "… and they'll find an exercise that is really fun."