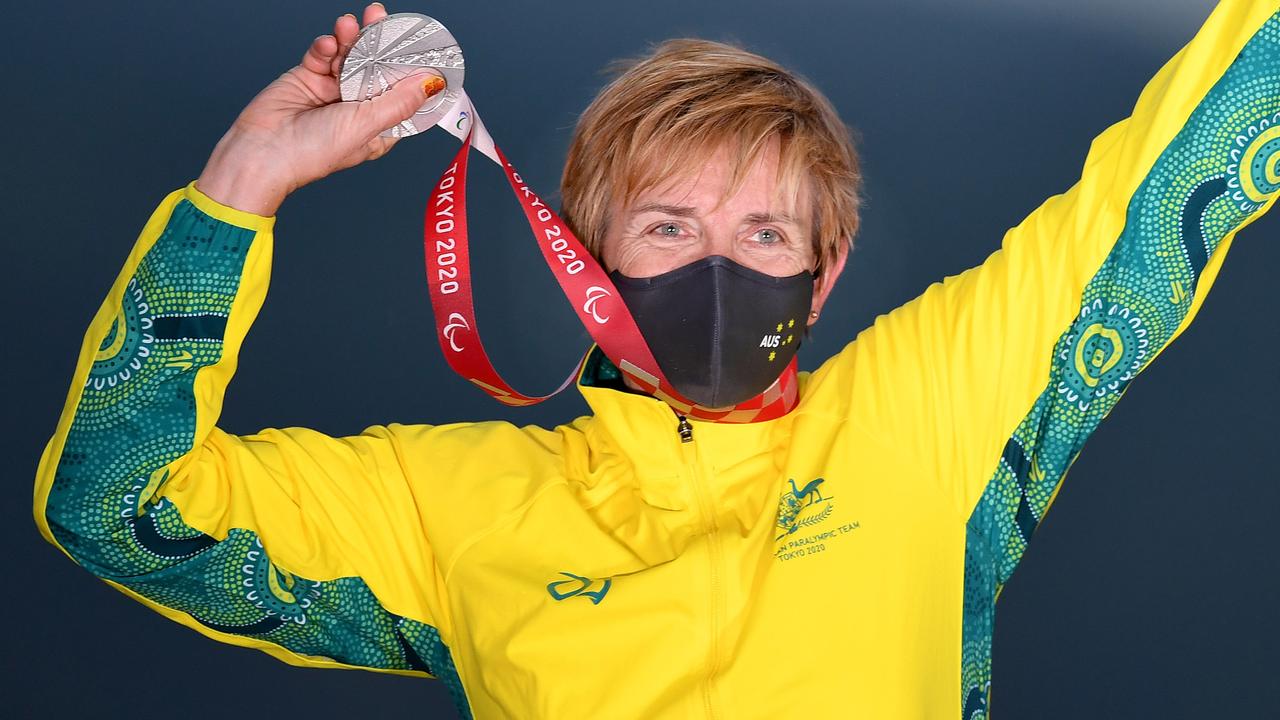 It's been another remarkable day for Australia in Tokyo, our athletes adding another 12 medals to their huge paralympic haul, including a 60-year-old cycling star.
What a day it has been for the Australian team at the Tokyo Paralympics.
The Aussies have won an astonishing 12 medals in a single day – taking the team total to a massive 54 medals – with five days of competition still to go.
Six medals came from the road cycling team while our swimmers and athletes provided three each.
And there's plenty more coming because Dylan Alcott is through to the singles and doubles finals in wheelchair tennis.
CYCLING
South Australia's Darren Hicks, won the 24 km C2 time trial at Fuji International Speedway.
The win gave the one-legged former truck driver his first Paralympic gold medal after he had earlier won a silver in track cycling.
"I've been dreaming of that for five years, maybe longer. I'm still a bit lost," Hicks said.
Carol Cooke – who turned 60 less than four weeks ago – took silver in the women's T1-T2 time trial.
She became the second oldest Australian woman to get on the podium at the Paralympics.
Emily Petricola, who lapped her opponent in the final of the individual pursuit to win gold on the track last week, took silver after finishing just 10 seconds behind American Shawn Morelli.
Meg Lemon won the bronze in the same race.
Paige Greco also won a bronze medal in the women's C1-C3 time trial after taking gold on the track last week.
Alistair Donohoe won a bronze in the men's Class 5 race.
The Aussies have won 12 medals in cycling, including track, and still have three days of road racing left.
SWIMMING
Grant "Scooter" Patterson won a silver medal in 50m breaststroke, giving him his second Paralympic medal in Tokyo.
"To come away with a bronze and a silver at this comp is pretty special," he said.
"I've been looking for a Paralympic medal for 13 years so to have a bronze and a silver, I'm over the moon.
"The Paralympics happen every four years, but this one is even more special because you have to wait an extra year, so five."
Col Pearse won a bronze medal in 100m butterfly.
"It's been a hard 18 months, with all the lockdowns. So to finally get on the podium at the Paralympics, it's just everything," he said.
I still can't just put words together, how I'm feeling right now, it's just incredible. It's a childhood dream come true. Makes it all worth it, training every day for the past 18 months, during lockdown, not taking a day off. It's worth it. "
Jasmine Greenwood, 16, won a silver medal in the women's 100m butterfly, with the 16 year old just missing the gold on the touch at the wall.
"This morning I was feeling very nervous for this race because we didn't get to do a heat. It was a straight final and I think everyone was a bit nervous," she said.
"I went into it (the final) knowing I had done a lot of hard work, and it paid off. I am very pleased."
ATHLETICS
James Turner blitzed his rivals to win the T36 class 400m gold in a Paralympic Games' record time of 52.80 seconds. He also won gold in the 800m at Rio in 2016.
"I was part of the Australian Paralympics seven-a-side team from age 15 to 20. It's been really hard being away from them but they are all supporting me. I've had messages from them, and it's great," he said.
"I actually got a call from athletics saying, 'Hey, you used to run 800m and your classification changed in football. Do you want to give it a go and see if you can make Rio?.'
"I thought, I might as well give it a shot, what's the worst that can happen? Here I am today."
Jaryd Clifford won a bronze medal in the 1500m run for visually impaired athletes.
Runner-up in the 5000m, the 22-year-old still has the marathon to come.
"I knew the 1500m was going to be the toughest event here," he said.
"Because the 800m has been taken off the Paralympic program, the 1500m is stacked with guys who are extremely good runners.
"I would have liked to have gone quicker. I'm the world record holder but they're only a second behind me, and if I lead it out, they'll sit on me and they're quick enough to do that."
Madi de Rozario won a bronze in the 1500m wheelchair after winning gold in the 800m on the weekend.
Originally published as Tokyo Paralympics 2021: 60yo claims Aussies' 50th Tokyo Paralympics medal, James Turner and Darren Hicks win gold