A dietitian has revealed her top picks for healthy frozen meals you can pick up at the supermarket, starting from just $4.
Speaking to Today reporter Sarah Stewart, clinical dietitian Jaime Rose Chambers shared her favourite frozen meals, according to their nutritional value. Watch the video above.
Standing in front of a table full of frozen meal options, Chambers says her favourite pick was the Lean Cuisine Protein Plus range.
READ MORE: What to eat and what to avoid if you have COVID-19, according to a dietitian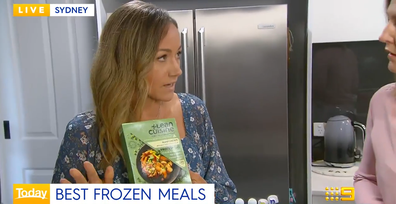 READ MORE: Two years on: How Harry and Meghan's lives have changed since their royal exit
Chambers says the meals are a good portion size, with each containing on or over 50 per cent vegetables — a rare find in frozen meals.
"Nutritionally, in terms of macronutrients, so fat, protein, carbohydrates and total calories, [the range] is actually perfectly constructed," Chambers added.
For those eating for weight loss, Chambers recommended the Coles Perform frozen meal range.
She praised the range for being high on protein, lower on carbohydrates and overall a good calorie size. She particularly highlighted the Lemon Pepper Chicken meal, which had a higher amount of vegetables included compared to other meals.
The most cost-effective meal Chambers found was the Wellness Bowl by Super Nature.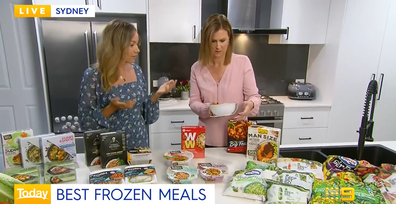 "It's quite a decent size, it's full of whole grains, lean proteins, vegetables, all the things that make up a really nice, healthy meal," says Chambers.
The meal cost Chambers just $4.40 — which she pointed out was probably a lot less than making the meal yourself.
READ MORE: Benji Madden's sweet tribute to Cameron Diaz on their seventh wedding anniversary
She also noted that all the meals she chose were actually quite a bargain, costing between $4 and $7.50.
For vegans and vegetarians, Chambers also had some impressive picks.
In particular, the dietitian spotlighted Super Nature's Split Pea and Lentil Dahl meal. "Nutritionally it's excellent, full of pulses and legumes, whole grains…and again, fairly inexpensive," she says.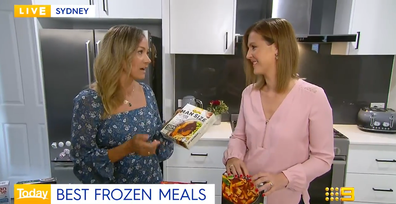 READ MORE: Singer talks about 'top secret' rehearsal with Kate Middleton ahead of carols performance
While some might find a frozen meal portion a little on the smaller side, Chambers cautioned viewers from choosing 'Man sized' or large-sized meals.
"They're not in the same category as these other products," says the dietitian. The meals often don't have the same "vegetable bulk" as the smaller meals, she adds, and also have a long ingredients list.
"That's a pretty good indicator that there's lots of ingredients that are not quite conducive for good health," she says.
For a daily dose of 9Honey, subscribe to our newsletter here