Has the warmer months brought with it a bad case of bloating, flatulence, cramps or constipation? While most of us have a fairly good idea of the effect the silly season has on our waistlines and the scales, perhaps less obvious is its effect on our gut.
Why is this important? For some individuals, a spike in rich foods and alcohol during this period can actually trigger change in the gut microbiota, according to nutritionist and whole foods chef Jacqueline Alwill.
"It reduces powerful and beneficial bacteria and creates an environment for less desirable bacteria to flourish," she tells 9Honey.
READ: 5 reasons to cut back on alcohol this party season (other than avoid a hangover)
"Those who already have a sensitive gut may experience increased symptoms of gut dysbiosis, permeability — leaky gut — and inflammation."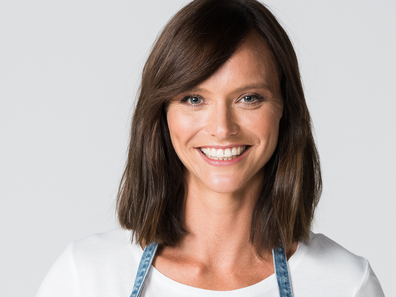 The negative knock-on effects that result from a steady diet of inflammatory foods and alcohol are vast, including distrupted sleep, reduced gut motility, and poor hangover food choices.
But aside from abstaining from parties and social events altogether, is there anything we can do to help our guts thrive during the party period?
Well, kind of.
Aside from the obvious solution of dialling the party antics back a notch, Jacqueline has shared some of her best gut-boosting tips to help you maintain some sort of balance over the silly season — as well as a delicious, gut-loving breakfast recipe to add to your healthy cooking arsenal.
For a daily dose of 9Honey, sign up here to receive our top stories straight to your inbox .
Enjoy some nights with alcohol and some without
"On the nights you do drink, alternate a water for each drink too, to keep all systems (digestive and beyond) well hydrated. Poor hydration can lead to digestive stagnation and make hangovers far worse than they need to be."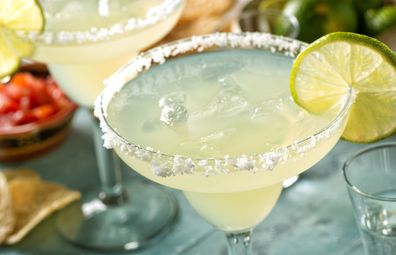 Load up on fibre and protein
"On the days you know you will be out at night, integrate plenty of nourishing and fibre rich foods into your diet — start with a healthy breakfast such as the Sweet Coconut Pear Quinoa (see recipe below), which can be batch-prepped so you're never caught out. Also include quality protein, a big salad for lunch and limit snacks to fresh fruit, veggies, nuts and seeds where possible.
"By integrating high fibre foods via fresh fruits such as pears throughout the course of the day, your appetite is satisfied, reducing the likelihood of over-consuming rich foods.
"It also preserves gut motility, helps to move toxins out of the body the following day, plus it fuels beneficial bacteria in the gut rather than allowing the bad bacteria to thrive on alcohol and potentially poor food choices."
Schedule morning activities
"Do this throughout the festive season to ensure you don't over do it too frequently because you have a commitment to attend. This keeps both your eating and drinking on track and exercise supports digestive health too, from regulating gut motility to improving the diversity of the micro flora."
Don't 'detox' in the new year
"Restrictive eating and harsh crash dietary approaches aren't necessary and can often work against you. Rather, assess some habits that need to change, schedule in plenty of activity, water and base the diet primarily on plant-based whole foods — fruits, vegetables, nuts, seeds, beans, legumes, wholegrains. With this approach, rather than a 'I'm going on a detox,' you'll be kinder to yourself and set up better dietary and health approaches long term."
Sweet pear and coconut quinoa, caramel nut butter and fresh Beurre Bosc
Serves 2 | Gluten free | Dairy Free | Vegan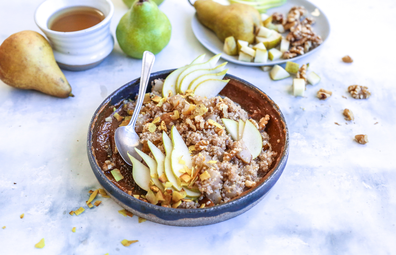 INGREDIENTS
Sweet pear and coconut quinoa
1 medium (380g) Beurre Bosc Pear, cored and cut into 2cm pieces

1/2 teaspoon ground cinnamon

1/2 cup (88g) quinoa, rinsed

1/4 cup coconut milk
Nut butter caramel
2 tablespoons almond butter (or nut butter of choice)

1 tablespoon coconut milk

2 teaspoons maple syrup
To serve
1/2 – 1 Packham Pear, cored and sliced

Toasted nuts or 2 tablespoons granola
METHOD:
To make the sweet pear and coconut quinoa, place Beurre Bosc Pear pieces into a small saucepan, add 1/2 cup (125ml) water and cinnamon, cover with lid and place on medium heat for 15 minutes, stirring once throughout.
Add quinoa and another 1/2 cup (125ml) water, stir, then cover with lid and place back on heat to cook on low to medium heat for 15 minutes, stirring once throughout.
Remove from heat, add coconut milk, stir gently then set aside keeping covered. Make the nut butter caramel by whisking together all ingredients in a bowl.
To serve, divide the caramel between two bowls and spread evenly over the base or sides, add the cooked sweet pear and coconut quinoa, sliced fresh Packham Pear and sprinkle with additional toasted nuts or granola.
Recipe courtesy of nutritionist, whole foods chef and founder of The Brown Paper Bag, Jacqueline Alwill in partnership with Australian Pears.
For a daily dose of 9Honey, sign up here to receive our top stories straight to your inbox .