Jacqueline Alwill is an accredited nutritionist and partner with Healthy Care.
It's the holiday season — the most wonderful time of the year. But, why, especially this year, are we all so stressed?
Is it the constant state of high alert? Is it the unmanageable deadlines we are placing on ourselves? Is the idea of socialising after months of hibernation just totally not bearable?
The Healthy Care Take Care Report summed it up perfectly.
Australians are desperately seeking a break from stress after the year we've had. COVID-19, finances, home balance and sleep, coupled with the uncertainty of a global pandemic, are all the reasons we're feeling burnt out.
RELATED: The health issue affecting the next generation of mothers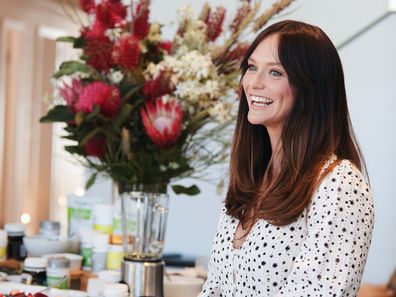 Group that together with December, officially the most stressful time of the year and voila — we have stress overload!
So, do we just ride the stress wave and hope we'll survive? Or, is there an opportunity to take control of our stress levels and flip them on their head.
In my opinion, if we take care of ourselves, we can absolutely manage our stress levels (even at Christmas!).
Here are my tips to keeping your calm, and managing stress, this holiday season.
Identify when you're stressed and act on it
Stress is a powerful emotion and it can have a profound effect on how we function.
The most common signs of stress are fatigue, poor immunity, insomnia or inability to fall asleep, poor digestion (that includes bloating, indigestion, heartburn, flatulence, constipation and diarrhoea), lack of focus, muscle tension, jaw clenching (bruxism), teeth grinding in your sleep and tension and cluster headaches.
Tuning into how we feel, and identifying how our bodies are reacting to circumstances, is totally the first step to helping you through difficult times of stress.
Conscious eating
Stress eating — we've all done it! But if we make a conscious effort to stop and recognise each meal, we'll be building positive eating habits that support better digestion and wellbeing.
Most of the foods we turn to when we're stressed unfortunately aren't nutrient dense and are often highly processed and rich in refined sugars. These types of foods can lead to energy fluctuations, which ultimately hinder wellbeing.
Stress actually triggers our sympathetic nervous system (our flight or fight mode) making it difficult to digest food which can lead to digestive discomfort. When we eat, my advice is to rest and digest. Sitting and eating each meal activates our parasympathetic nervous system which supports healthy digestion.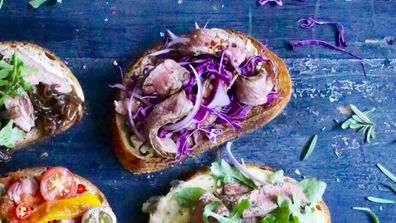 Introduce nutrient dense food and supplementation
My hot tip is to eat the rainbow. A beautifully coloured plate is no doubt fresh with whole foods which are rich in antioxidants that are designed to combat the effect of stress on our body, as well as reduce oxidative damage to cells.
Ensure you're eating five serves of vegetables a day. Think carrots, beetroot, sweet potatoes, capsicum and greens (kale, spinach, beans, artichoke). The fibre in these foods will also work to fuel the beneficial bacteria in your gut, where 70% of our immune system is housed. Building a strong immune system will totally help your body fight the signs of stress.
Commit to two to three serves of fruit per day. At this time of year I love a good hit of blueberries, strawberries and stone fruits. I know many of us demonise the 'sugar' in fruit however I can assure you, you'll benefit greatly from eating the whole fruit rather than diving for the sugary chocolate bar.
And whilst we're talking chocolate – you don't have to avoid it, just try to make more nutritious choices in your choccy block. Dark chocolate is an incredible source of supportive minerals and antioxidants.
You don't need to eat a block a day but a few squares of your favourite is a great way to enjoy chocolate with a nutrient boost.
I love to boost my dark chocolate with a serve of Healthy Care Magnesium Powder, which is raspberry flavoured and totally delicious. Magnesium is a valuable mineral to support times of stress as it reduces muscle tensions and headaches, improves energy and supports sleep.
Say yes to quality protein
Ensure quality proteins are part of your every day. Lean into fatty fish such as salmon, trout, mackerel and tuna. Stress can have an inflammatory effect in the human body and the essential fatty acids present in quality protein sources help to reduce the risk and effect of inflammation.
Fatty fish is also super rich in the amino acid tryptophan, an amino acid precursor to both serotonin (which supports sleep, mood and cognition) and melatonin (the hormone involved in your sleep wake cycle).
If eating fish isn't your thing, top up your nutrient intake with Healthy Care's Fish Oil and ensure you include other protein rich foods in your meals – eggs, legumes, free range chicken and red meat on occasion.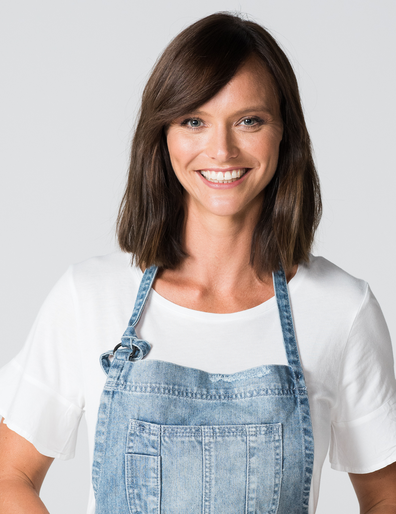 Hero your herbs
Culinary herbs and spices are supercharged with phytochemicals, minerals and adaptogenic nutrients to support the body through times of stress. I love throwing fresh herbs and spices into any (and basically all!) dishes I prepare to improve the nutrition and flavour of a meal.
I'm also a huge fan of supplementation of herbs like Ginkgo Biloba. In traditional Chinese medicine Ginkgo Biloba is used to support memory, mental capacity and cognition. Healthy Care has just launched their Gingko Biloba range which includes triple strength Ginkgo Biloba, a Brain Booster, Focus and Memory which aim to reduce mental fatigue, improve concentration, create more calm and support the body's adaptation to stress.
Whilst I know 2020 has been the year of stress (and snacks), try to take the challenges of the year that was and flip them on their head. Use our experiences to recalibrate and focus on good nutrition and positive habits. Commit to well balanced meals, aim for conscious eating, lean into supplementation when you need to and truly eat your way to less stress.
Trust me, you will feel the difference!