Following LeBron James' record-breaking performance in the NBA this week, the question everyone may be asking is "how does he stay at the top when he's nearing 40?"
Most NBA players retire around 33-years-old, with many often being plagued by injury for years prior, so it's a fair question.
Isaac Robertson, Total Shape personal trainer and nutritionist, has collated the all-star's workout routine, which includes high-intensity interval training (HIIT), uphill bike rides, weight sessions and a strict nutrition plan.
READ MORE: Paul Rudd shares his food and fitness routine
"It's no wonder LeBron James' routine is so structured and disciplined when you consider his sporting success," he said.
"He's a sporting marvel who remains at the top of his game and his sport, breaking records at 38-years-old in a season where the average age is 26-years-old."
Here, Robertson shares the athlete's weekly workout breakdown.
Monday
James begins the week with focus on the upper body. He does three sets of ten reps of incline dumbbell bench presses before the same number of wide-grip lat pulldowns.
His Monday will also include three reps of one-arm dumbbell military presses followed by three sets of ten reps of one-arm dumbbell rows.
READ MORE: Dietitian shares her 'ins and outs' for 2023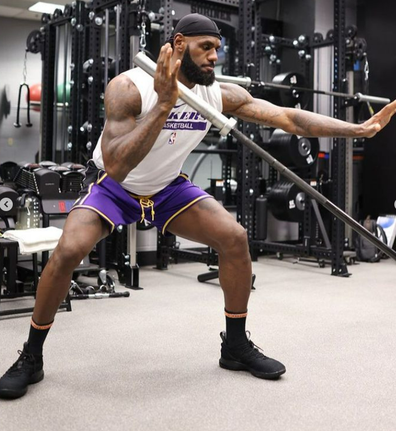 Tuesday
Tuesday is all about plyometric exercises, which is just a fancy way of saying exercises that use speed and force.
James can be found taking spin fitness classes on Tuesdays that last anything from 30 minutes to an hour.
He'll follow this us with other plyometric exercises including step climbing, lunges, push-ups, jump squats, push-up hops, and skipping.
Wednesday
As we get to the mid-week point, it's all about the back, biceps and trapezius.
James's routine includes three sets of ten grip pull-ups, four sets of 12 standing bicep curls with a barbell on each arm, and three sets of 15 chin ups.
As if that isn't enough, James then does four sets of 12 barbell bent-over rows and three sets of ten wide grip pull-ups.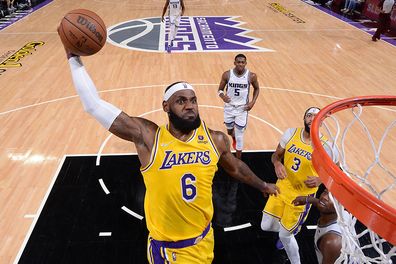 Thursday
All about the stamina, Thursday is cardio day.
To begin the day, James will jump rope for 30 minutes to get the heart pumping before three sets of eight or ten pull ups. This is followed by three sets of 10 dumbbell bench presses and the same number of single-arm cable rows.
To end the workout, James will do three sets of six or eight overhead single-arm presses per arm, and then three sets of ten leg curls.
Friday
The weekend is on the horizon, but there's no time to let up when leg-day is in store.
Friday begins with four sets of 12 seated calf raises before moving on to the same number of leg presses.
James will then move on to four sets of 12 back reps followed by a series of calisthenics.
Calisthenics include weighted umps, jumping lunges, box jumps and push-ups. For each of these he would do three sets of 15 reps for each exercise.
Saturday
Plyometrics and spin class
Sunday
Rest Day
Importantly, James also sticks to doing a 30-minute warm-up ahead of each workout session which can be done on a climbing machine or jogging on a treadmill.
Similarly, he ends his workouts with a cool-down. He'll typically do a 20-minute yoga practice to cool down and absorb the post-workout effects.
READ MORE: What Olympian Ariarne Titmus eats in a day
LeBron James' diet
James begins his day with protein and fruit such as egg-white, omelettes, yoghurt, smoked salmon, berries and gluten-free pancakes.
But that's quite a lot – on the days the all-star doesn't feel like eating much, he'll have a bagel with peanut butter.
For lunch and dinner meals, they tend to be high protein with lots of green goodness. It includes rocket salad, vegetables, with olive oil and meats such as chicken breast along with a little pasta.
Snacks
James loves fruits as snacks. So much that he and his wife, Savannah, once owned a fresh fruit juice store in Miami. Typically, he'll reach for apples, bananas and berries and during halftime, James can often be seen munching on apple slices topped with almond butter.
For a daily dose of 9Honey, subscribe to our newsletter here