Rachael Finch has a lot on her plate, but being a mum, model and TV presenter doesn't seem to be enough for the entrepreneur who has also started her very own health and beauty brand, Kissed Earth; developed Kynd Scent essential oil perfumes; created a fitness program called Body By Finch and to top it all off, an activewear business called BOD By Rachael Finch. Despite her busy schedule, one thing that always remains a top priority in her and her family's life is the importance of maintaining a holistic approach to healthy living.
We spoke to Rachael about how she does it all, her approach to exercise and the key to finding the right activewear…
For a daily dose of 9Honey, sign up here to receive our top stories straight to your inbox.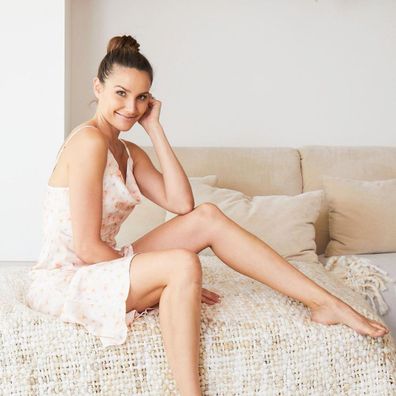 When it comes to healthy living, what are the lessons you're passing down to your children?
I want them to understand the importance of taking a holistic approach to their health and to their lifestyle — realising that it's not just about the food they eat or how much exercise they do. It's mind, body, and soul.
I also want them to appreciate home cooking, eating seasonally and make self-care a regular part of their weekly regime. Mental health is just as important as physical health. Violet is already asking about meditation and it's something I can't wait to share with them.
Why do you think it's important to educate your kids about healthy living?
This year has been a huge realisation for a lot of us that health is at the epicentre of our life. The earlier we can start teaching our kids the importance of taking care of themselves, the better quality of life they will have long term. Everything that we put in and on and our body has a direct result on who we are as human beings. Having knowledge on these things can be so powerful.
You've definitely got your hands full but what made you want to start an activewear line?
Creating B.O.D was the result of a few things actually! Firstly I've spent my whole life in activewear — I met my husband in it, travelled the world with it on and even gave birth to both of my kids wearing it! It has always had a special place in my heart. B.O.D stands for Body of Dance — I met my husband, Misha, on the show Dancing With the Stars… we fell in love on the dance floor and share the same passion for dance and overall fitness. We wanted to create a beautiful range of activewear for women to feel stylish, supported and confident. We then launched my online health and fitness app Body by Finch and wanted to be able to offer our members quality activewear they could use every day.
What do you think is the key to finding the right activewear for your body shape?
Knowing what body shape you are is a great place to start so you can choose pieces accordingly. It's good to remember that dark panels or pieces will be more flattering for the body and lighter shades will emphasise certain areas. I'm quite tall and find the capri leggings to be my favourite! Most of our waist-bands have a new power mesh technology built in for extra support which we all love!
What's your favourite way to work out?
My all-time favourite workout is a dance cardio session! I never danced as a kid — it's something I've simply fallen in love with as an adult, which my husband taught me how to do. We have many dance cardio session on the program.
What does your week in workouts look like?
I like to change my exercise up every week depending on how I feel. Some weeks I feel more energised and choose the HIIT sessions from my program, while other weeks I turn to the BodyTone sessions which are yoga-inspired stretch classes. We created the Body by Finch app with different options to give women the choice, depending on how their body was feeling. No one-size fits all so variety is key. In a week I may end up doing 1 x HIIT session, 1 x BodyTone class, 1 x dance class, and 2 x outdoor walks with Simba.
Talk us through a quick workout you would do if you only had 15 minutes?
It would definitely involve a consistent flow of movements or exercises, without any breaks, considering the time constraint. I would choose 4-5 exercises targeting different muscle groups and create a circuit style session which could be completed in 3-4 rounds!
A lot of people may think that I'm strict on my diet but I love my treat days.
What's something not many people would know about you, when it comes to healthy eating and exercise?
I eat chocolate every day. A lot of people may think that I'm strict on my diet but I love my treat days and enjoy some type of chocolate daily. In saying that I do like to make my own from scratch so that it's always there when I open the fridge.
What's the biggest lesson you've learnt about healthy living?
Always remember bio-individuality — one person's food may be another person's poison. Find what works for YOUR body and do that.