It already counts the likes of Justin and Hailey Bieber, Kendall Jenner, David and Brooklyn Beckham, Selena Gomez and Kevin Hart as A-list fans, and now Rumble Boxing is aiming to become the newest fitness craze to sweep Australia.
The boutique boxing concept offers high-intensity circuit-style workouts in a group fitness setting, with the first Sydney studio opening its doors this week in St Leonards.
The high-octane 45-minute classes are made up of 10 high-octane rounds, combining HIIT (High Intensity Interval Training), metabolic conditioning, strength training and the benefits of cardio.
And the best part about it – you don't need any prior boxing experience.
READ MORE: How taking your phone to the gym is ruining your workout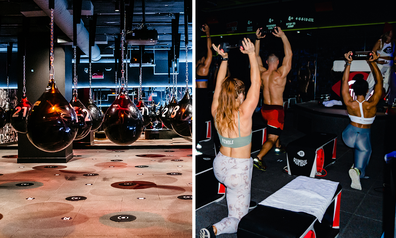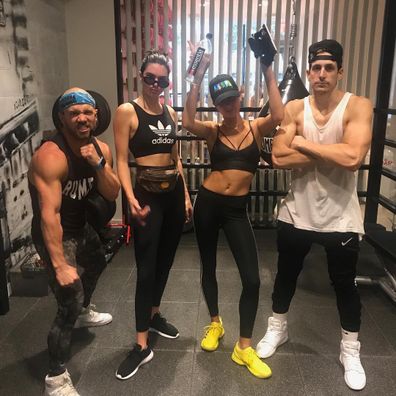 There are a few studios already in Western Australia, but we got to give the workout a try in the very first class on the East coast.
When you first arrive, you get given your own pair of shiny white boxing gloves and wraps (which once you've worked out are easy to fit), before you head into Rumble's nightclub-like workout space.
On one side of the room, there are the specially-designed water-filled teardrop-style boxing bags, and on the other, you have a workout bench equipped with light to heavy dumbbells and hand weights. You'll get assigned a number and that's where you start.
Rumble Boxing's Zach Vickers and head trainer Molly Gay took us through the session that went through three rounds of boxing, three rounds of lower-body strength, another two rounds of boxing and two final rounds of core.
The last round was called 'Rumble Round' which was your chance to leave everything on the table. By that stage the sweat was dripping. It definitely did the trick.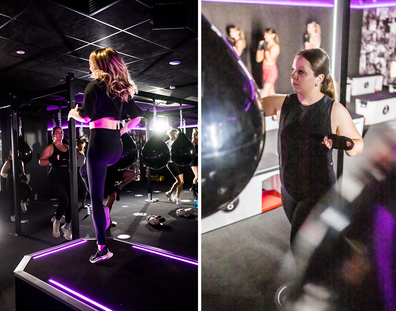 READ MORE: Should exercise calories be added to food labels? Here's what dietitians think
The lighting system is timed perfectly with the music which adds that layer of fun and when that red light turns on it's hard not to give it that extra push.
And that music is curated to the workout. Rumble has an in-house DJ who creates mixes for each trainer's personality.
You also really don't have to worry about getting lost when throwing your punches. The best part about it is you can go at your own pace. But the system is easy enough to follow – you get shown all six different punches during the demo and again when it comes time to do them. And if you do get lost, the sequence is always listed on a digital screen at the front of the room.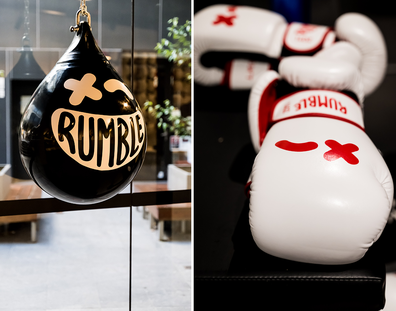 The boxing brand first began in New York City in 2017 and has since expanded across the US in Chicago, Los Angeles, Philadelphia, Palo Alto, San Francisco and Washington DC to name a few.
With studios now in WA and St Leonards first in Sydney, a Bondi location isn't far off with Melbourne and the Gold Coast also in the works.
The verdict: I've never been a huge fan of boxing classes because I often feel intimidated and admittedly get confused. But this class was super simple to follow along and the vibe in the room was just really motivating. If you're a fan of the group-fitness, music-fuelled, circuit training combo then you'll love Rumble. And if not, maybe it's time to give it a try.
For a daily dose of 9Honey, subscribe to our newsletter here.