Feeding a family is the ultimate balancing act, as you try to find ways to nourish your loved ones with meals everyone will actually eat.
It can be even tougher to give those family favourites a nutrition boost while also sticking to a tight budget, with healthy additions often costing a pretty penny.
But upping your nutrient intake doesn't have to be overly complicated or expensive, with a few trusty ingredients on to the ready to health "hack" your favourite meals — and happily, it can be done for as little as $1 a serve or less. Don't believe us? Give these weekday favourites a whirl.
Chicken stir-fry
The chicken stir-fry is a quick and easy favourite that also lends itself to utilising a range of different cuts of meat and many different veggies.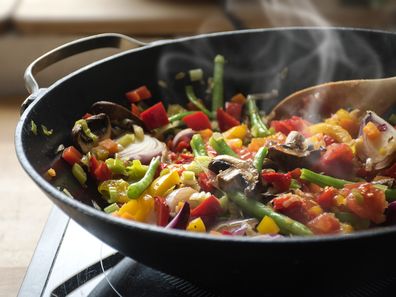 An ingredient we are less likely to reach for when whipping up a stir fry is legumes — specifically edamame, the immature soy bean that packs a mean nutritional punch. With loads of dietary fibre, protein, as well as a range of vitamins and minerals, adding some frozen edamame to your favourite stir fry will add plenty of extra flavour and tons of extra nutrients for around 50c or less per serve.
How: simply toss a couple of handfuls of fresh or frozen edamame in with the veggies
Cost: 50c or less per serve, based on $3 packet of frozen edamame soybean pods
Nutrient Upgrade: dietary fibre, protein, iron, calcium, folate, zinc
Lasagne
The popular lasagne is a relatively expensive dish once you take into account the cost of the lean mince meat, cheeses, pasta sheets and tomatoes. But you can significantly reduce the cost of this favourite while simultaneously boosting its nutritional profile by adding extra veggies to your meat sauce, and layering your lasagne with extra vegetables throughout.
Not only will this boost the filling factor of this tasty meal — so you feel satisfied sooner — but the family will eat a truckload of extra veggies without even realising it. Think pumpkin and zucchini — seasonal veggies that are all relatively inexpensive — along with grated carrot and zucchini in the meat sauce.
How: grate a carrot and zucchini into your meat sauce for less than $1 each, along with shaved pumpkin sheets and zucchini slices to layer with your pasta sheets
Cost: 80c per serve, based on $1.75 half pumpkin, $1 worth of zucchini, 50c worth of carrots
Nutrient Upgrade: dietary fibre, folate, beta carotene, vitamin C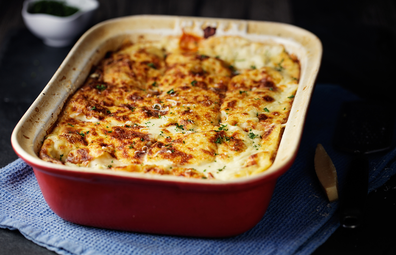 Schnitzel
If you were to name the number-one family meal, schnitzel would surely be a contender for the top of the list. Whether you crumb chicken, pork or fish fillets, served with sweet potato fries you cannot go wrong with a meal of schnitzel.
While there are many different types of crumb available, most are based on processed carbs. An easy way to significantly increase the family's intake of wholegrains and good fats can be to slip them into your favourite schnitzel crumb. Think quinoa flakes, chia seeds, or even a mix of different seeds to create a tasty, nutrient-rich crumb.
How: add a tablespoon of chia seeds along with ½ cup quinoa flakes to your favourite crumb mix
Cost: $1.20 a serve, based on $5-$6 per packet of chia / quinoa flakes (10-12 serves)
Nutrient Upgrade: wholegrains, dietary fibre, good fats, protein
Burritos
Whether your family's Mexican go-to is tacos, nachos or burritos, you're guaranteed it'll be a hit with all members of the family. And while those lashings of corn chips, sour cream and avocado are extremely popular, it can be easy to boost up the nutritional profile of any Mexican meal by simply utilising beans and corn in your meat or veggie mix. Not only are these ingredients exceptionally cheap, clocking in at less than $2 per large can, but they significantly increase the protein and fibre content of your feast.
How: add kidney beans and corn to your meat or tomato base. Season with cumin for extra flavour.
Cost: 75c per serve, based on 80c canned kidney beans / $2.20 4-pk of canned corn kernels
Nutrient Upgrade: dietary fibre, protein, folate, B group vitamins
WATCH: A delicious fish taco recipe from 9Honey's Every Day Kitchen. (Post continues.)
Fried rice
Fried rice really is the perfect Sunday night meal, where you can throw in any leftover veggies and mince you have, along with yummy sauces and white or brown rice for a tasty meal the entire family will enjoy.
Rice-based dishes, while easy to make, can be a little light on protein. Adding a couple of eggs to your rice mix can instantly create a protein-rich meal for very little.
How: Once your meat and onions are cooked and rice is in the pan, add your eggs which will cook in with your rice after just 2-3 minutes.
Cost: $1.05 per serve, based on $6.40 12-pk extra-large free-range eggs
Nutrient Upgrade: protein, Vitamin B12, iron, Vitamin A, Vitamin D
Author Susie Burrell is a leading Australian dietitian and nutritionist, founder of Shape Me, and prominent media spokesperson, with regular appearances in both print and television media commenting on all areas of diet, weight loss and nutrition.