There's something quite nice about the idea of lying down for 15 minutes and getting the results of months of gruelling gym training. So when offered the chance to try a 15-minute body sculpting procedure last month, I jumped at it — even if I was a bit sceptical.
Cutera's truSculpt flex+ is a non-surgical treatment that is meant to strengthen, firm and tone your muscles by replicating super intense crunch, squat and twisting actions. It's meant to be the equivalent of up to 54,000 crunches in just 15 minutes. Sounds amazing, doesn't it?
My provider, Danielle, told me she'd be giving me the truBody package, which includes four truSculpt flex+ treatments and one truSculpt iD treatment — a non-invasive, non-surgical radiofrequency treatment that permanently destroys fat cells.
I visited her four times. Day one involved the iD treatment, immediately followed by one flex+ session. I then had three more flex sessions with a few days in between each treatment.
So what is truSculpy flex+ exactly?
It's a TGA-approved muscle-building treatment that is meant to strengthen, firm and tone your muscles.
The technology replicates super intense crunch, squat and twisting actions offering "the equivalent of up to 54,000 crunches in just 15 minutes".
READ MORE: Meghan Markle praises court's dismissal of UK tabloid's appeal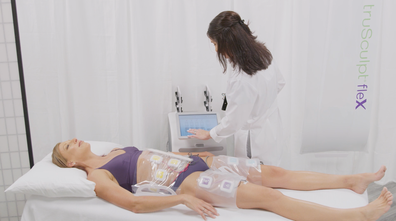 How does it work?
Strap yourself in, baby!
Firstly, you're told to avoid exercising for up to 12 hours pre-treatment so you can tolerate the intensity and get the best results. You also want to be well hydrated.
Based on your shape and your goals, your provider will place 16 TruSculpt applicators on your body to target multiple small and large muscle groups. For me, it was my tummy and thighs, but you can also treat your butt and flanks.
Then, for 15 minutes, you just lay there while those applicators sculpt your body using three different treatment modes for five minutes each: Prep, Tone and Sculpt.
Prep is a twisting motion, which is meant to condition and stretch the muscle group and build up your tolerance for the muscle contractions.
Tone contracts the muscle muscles and holds them to the point of exhaustion.
Sculpt is a series of fast, deep and sequential contractions of the muscles to build mass.
READ MORE: Apple Watch exposes cheating partner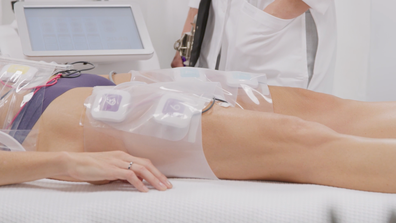 How much is it?
One truSculpt iD treatment starts at $1500 per session, while a truSculpt flex+ treatment starts at $750 per session. I had four sessions, which is the recommended minimum number — though you can have as much as your heart (or wallet) desires.
Does it hurt?
No, but it certainly felt weird! It's like a muscle contracting sensation, but the main discomfort I felt was ticklishness. I was basically howling because my tolerance for tickling is extremely low.
It intensifies as you go on, and you'll be a bit of a sweaty mess by the end. That's normal. My body was a little red, but not for long. I felt absolutely fine as I left the building.
The next day I felt a bit of soreness, like you would after a hardcore gym session.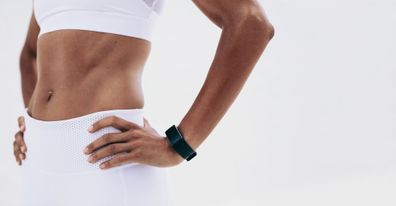 What are the short/long term results?
First of all, there's no downtime and you can return to normal life almost immediately after the treatment. According to Cutera, maximum results are generally visibly 8-12 weeks after the last session. I'm not there yet, but I'm keen to see what I notice when that time comes around.
Would I do it again?
Look, I'm not going to give up my gym membership just yet, and the maximum results are meant to take up to 12 weeks to be visible.
Aesthetically I haven't noticed a huge difference yet, but my lower back pain has pretty much disappeared and last week my personal trainer recently noticed my muscle mass had increased quite a bit. I do have a pretty regular workout regime though, and, like with most things, you're meant to combine the treatment with regular exercise and a healthy diet for the best results.
This writer was offered the treatment for the purpose of a review.